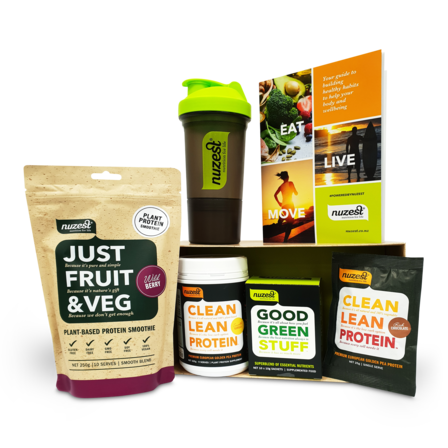 SALE! While stocks last!

10-day Healthy Body starter pack.

Get a spring in your step - Naturally.

Packed with nutrition. Good Green Stuff - New Zealand's best multi-nutrient formula - is combined with New Zealand's favorite pea protein, plant protein smoothie and a 'how to' guide!

*Just Fruit & Veg Pouch comes as Fresh Coconut
Effective, easy and no bad stuff!
The Eat Live Move Guide is designed to support you with your wellness goals. It will allow you to adjust your diet easily and simply so that you can reach you wellness and fitness goals in the shortest possible time. It is designed to be an ongoing support tool to help you eat in a way that gives you the energy and vitality that you need to get through your day.
Let's face it, food comes first, however other factors such as lifestyle, stress-reduction, sleep and exercise, along with intelligent supplementation are all critical for optimal well being. Many kiwis are not eating enough vegetables and fruits, getting enough exercise or sleep, or getting the recommended amounts of vitamins and minerals from their diets. Without these essential factors we cannot feel and perform at our best. Nuzest Good Green Stuff and Clean Lean Protein help to fill in the nutritional gaps in your diet, support satiety (feeling fuller for longer), to rebuild and repair your body and lose body fat.
Nuzest Good Green Stuff provides only the very best forms of 'body-ready' vitamins and minerals, in a base of nutritious whole foods, supportive herbs and antioxidant rich berries for complete micronutrient support.
Nuzest Clean Lean Protein, low carbohydrate vegetable (golden pea) protein and is a premium, low-allergen, vegan, and paleo friendly protein powder.
*Designed as a guide only, people with medical conditions should seek the advice of their health care professional before undertaking any major dietary changes. 
Each Nuzest Health Body Programme contains:
1 x EAT-LIVE-MOVE: Your 42 page guide to health and well-being (*)
1 x Good Green Stuff Sachet Box (10 daily serves)
1 x Clean Lean Protein Smooth Vanilla 225g tub (9 daily serves)
1 x Clean Lean Protein Rich Chocolate Single-Serve Sachet
1 x Just Fruit & Veg 250g Pouch - Wild Berry (10 daily serves)
1 x Nuzest Slim Shaker
The guide gives instructions for morning and afternoon Nuzest smoothies. Morning: GGS 1 serve; CLP 1 serve or 1 sachet. Afternoon: JFV 1 serve.