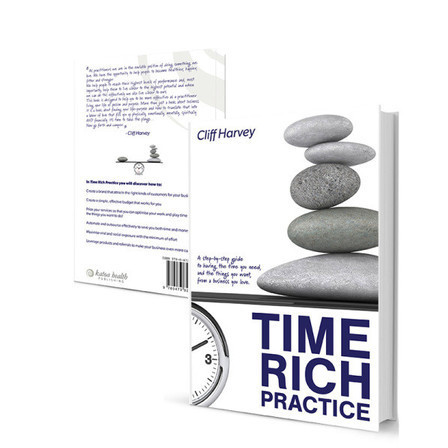 By author Cliff Harvey - "As practitioners we are in the enviable position of doing something we love. We have the opportunity to help people to become healthier, happier, fitter and stronger. "
In Time Rich Practice you will discover how to:
Create a brand that attracts the right kinds of customers for your business
Create a simple, effective budget that works for you
Price your services so that you can optimise your work and play time and do the things you want to do!
Automate and outsource effectively to save you both time and money
Maximise viral and social exposure with the minimum of effort
Leverage products and referrals to make your business even more cash rich!
"As practitioners we are in the enviable position of doing something we love. We have the opportunity to help people to become healthier, happier, fitter and stronger.
We  help people to reach their highest levels of performance and, most importantly, help them to live closer to the highest potential and when we can do this effectively we also live closer to ours.
This book is designed to help you to be more effective as a practitioner living your life of passion and purpose. More than just a book about business it is a book about finding your life-purpose and how to translate that into a labour of love that fills you up physically, emotionally, mentally, spiritually AND financially. It's time to take the plunge…
Now go forth and conquer.
~ Cliff Harvey