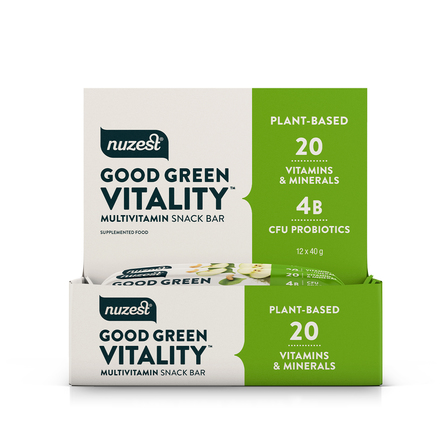 Eat your greens wherever you are. Natural goodness now on the go, go, go!
How can something so small make such a big impact on your daily nutrition?
Our flagship Good Green Vitality has always had an abundance of essential vitamins and nutrients and now we've packed all of this natural goodness into a deliciously handy pocket-sized bar. Good Green Vitality Bars are the perfect way to satisfy your hunger and make a serious contribution to your daily nutrition.
Like all our products, this new addition to the family contains only the best ingredients with zero bad stuff. This means each bar is packed with plant-based ingredients, essential vitamins and minerals, pre and probiotics, superfoods, adaptogens and more. Everything you need to support better digestion, healthier-looking skin, a more robust immune and nervous system, and a healthy lifestyle full of vitality.
With over 20 vitamins and minerals in every bite Good Green Vitality Multivitamin Bars provide an all-in-one nutritional super-boost for when you're on the go. They're easy to enjoy, daringly delicious, and perfect for everyone in your family. Green means Go!
Vegan
Free from: Gluten, Dairy and Soy
High Fibre
20+ Vitamins & Minerals
Contains Superfoods
4B CFU Probiotics
Contains Enzymes, Adaptogens & Antioxidants
Ingredients:
Apricots, Dates, Good Green Vitality [12.8%] (Apple [1.6%], Organic spirulina, Pea protein isolate, Potassium phosphate dibasic, Flaxseed, Magnesium gluconate, Sunflower lecithin, Natural vanilla flavour, Red marine algae, L-ascorbic acid (vit C), Natural pineapple flavour, Organic wheatgrass, Organic barley grass, Citrus bioflavonoids, Apple pectin, Citric acid, Organic chlorella, Broccoli sprout, Beetroot, Psyllium husk, Spinach [0.2%], Papaya, Carrot, Cacao bean*, Ginger, Licorice root, R,S alpha-lipoic acid, Shiitake mushroom, Bromelain, Resveratrol, Turmeric*, Rosehip*, Acerola*, Kelp*, Zinc gluconate, 1,3/1,6 Beta-glucans, Globe artichoke*, Slippery elm, Sweetener (steviol glycosides), Lactobacillus acidophilus, D-alpha tocopherol succinate, Coenzyme Q10, Astragalus*, Green tea*, Manganese gluconate , Ashwagandha*, Bifidobacterium bifidum, L-selenomethionine, Mixed natural tocopherols (vit E), Goji berry*, Dandelion*, Calcium d-pantothenate (B5), Panax ginseng*, Rosemary*, Gotu kola*, Nicotinamide (B3), Nicotinic acid (B3), Pyridoxine hydrochloride (B6), Retinyl palmitate (vit A), Vegan cholecalciferol (vit D3), Dunaliella salina (mixed natural carotenoids), Rhodiola*, Aloe vera*, Hawthorn*, Copper gluconate, Thiamine hydrochloride (B1), Riboflavin (B2), Grape seed*, Bilberry*, Blackcurrant*, Menaquinone-7 (K2), Milk thistle*, Phylloquinone (K1), Calcium L-5-MTHF (folate), Chromium picolinate, Biotin, Vitamin B12), Coconut syrup, Pea protein isolate, Cashews [5.8%], Sunflower seeds, Almonds, Chia seeds, Natural vanilla flavour, Antioxidant (tocopherols concentrate, mixed).*Extract
| | |
| --- | --- |
|   | Quantity Per Serving (40g) 1 bar |
| Energy | 638kJ |
| Calories | 153 |
| Protein | 6.5g |
| Gluten | 0g |
| Fat Total | 4.7g |
| Saturated Fat | 0.6g |
| Carbohydrate | 19.4g |
| Sugars | 15.8g |
| Dietary Fibre | 3.1g |
| Sodium | 78mg |
| Probiotics | 4B |
| Vitamin A | 400 mcg RE (50% RDI) |
| Vitamin B1 | 2mg (174% RDI) |
| Vitamin B2 | 2mg (167% RDI) |
| Vitamin B3 | 10mg (67% RDI) |
| Vitamin B5 | 5mg (100% RDI) |
| Vitamin B6 | 4mg (286% RDI) |
| Vitamin B9 | 200mcg (50% RDI) |
| Vitamin B12 | 50mcg (2083% RDI) |
| Vitamin C | 150mg (333% RDI) |
| Vitamin D | 10mcg (150% RDI) |
| Vitamin E | 8mg TE (88% RDI) |
| Vitamin K | 40mcg (62% RDI) |
| Biotin | 150mcg (545% RDI) |
| Calcium | 116mg (11% RDI) |
| Chromium | 20mg (67% RDI) |
| Copper | 300mcg (21% RDI) |
| Iodine | 75mg (50% RDI) |
| Iron | 2mg (19% RDI) |
| Magnesium | 83mg (23% RDI) |
| Manganese | 1mg (19% RDI) |
| Selenium | 35mcg (54% RDI) |
| Zinc | 6mg (55% RDI) |