Why Take Good Green Stuff?

All-in-one Nutrition
75+ Ingredients for comprehensive nutritional support
So much more than just greens, Good Green Stuff is a potent blend of carefully selected fruits, vegetables and herbs - with added vitamins, minerals, probiotics, antioxidants and other essential nutrients. It packs a punch with over 75 of the very best ingredients for optimum health.

Quality without Compromise
Research-based formula with world class production
Independently formulated by a team of global health experts. The form of every ingredient specifically selected for maximum bioavailability and efficacy. Regularly reviewed, and blended in world-class facilities. Every batch is tested before release.

Easy to Digest & Absorb
Powdered, real-food base. Ingredients your body is designed to absorb
Easier to digest than tablets or capsules and made from a base of real food, the nutrients in Good Green Stuff are supplied in the forms most easily recognised and used by your body. Every form of vitamin and mineral has been carefully chosen for maximum absorption.

Food For Thought
Adaptogenic herbs and nutrients to feed the mind and help you cope with stress
Aids concentration and memory with specific B-Vitamins, essential minerals, phyto-nutrients and herbs specifically chosen to support cognitive function and boost the adrenals in times of stress.
It's NUTRITION that your body recognises and can use.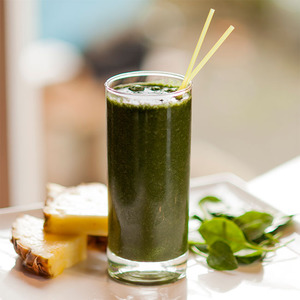 Better Digestion & Immunity
Packed full of prebiotics, probiotics and digestive enzymes, yet gentle on the stomach
A strong digestive system reinforces your body's immune system and defence against disease. Good Green Stuff contains a wide range of ingredients that encourage a healthy inflammatory response, support your immune system and promote gut and bowel health

Vitality, Body Balance & Healthy Weight
Designed to keep the spring in your step
CoQ10 and B-Vitamins for energy production and distribution, along with countless nutrients and phytonutrients to make you glow from the inside out. With herbs to help boost metabolism, fat breakdown, and detoxification, Good Green Stuff helps you look and feel your best every day.

Quick, Tasty, Convenient
Takes the strain out of good nutrition in one easy daily serve
No supplement can replace a healthy diet, but Good Green Stuff helps to offset the decline in food quality, and the increase in processed food and environmental toxins. Think of it as your nutritional insurance policy to help fill the gaps in your diet.

No Bad Stuff
Allergen-Free - All of the good stuff, with none of the bad
Free from all common allergens. No gluten, dairy, eggs, nuts, soy or corn. No GMO ingredients. No nasty chemicals, artificial preservatives or additives. Just concentrated, real-food ingredients with a multi-vitamin boost.
* Note: Not suitable for children under the age of 4 years. Contains Vitamin K. People taking warfarin should seek medical advice before starting consumption.